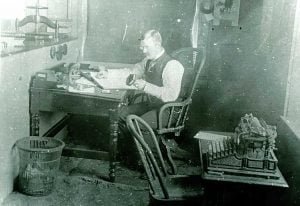 Biography
Amos J. Dickson hails from Champaign County, Illinois, where he was born on May 6, 1861. His parents are Andrew S. and Henrietta (Boggs) Dickson, the former a native of Kentucky and the latter of Ohio. They located at an early day in Illinois, where the father was a prosperous farmer until 1869, when the family moved to Kansas and after a residence of twenty years in the Sunflower state came to Colorado and located at Colorado Springs, moving from there to Glenwood Springs in 1902.
Welcome to Colorado Genealogy. This page has been designed as a method for you to find online genealogy data for Colorado. We hope this website will assist you in establishing your Colorado family history.
At present we have a series of pages devoted to identifying the various genealogical resources online. You can access this list from every page on the site, as they'll always appear on the right side.
We will be updating these pages frequently with additional genealogy and historical data, so please visit often.
Featured
Prisoner Records Available at the Colorado State Archives
The Prisoner Record volumes consist of entries for both men and women with the inmate numbers in numeric order. This is an alphabetical name index of each inmate and their inmate number. The Prisoner Record and Record of Convicts may be obtained by contacting the Colorado State Archives. The entire set of material will be published daily during the month of June 2015.
True History of some of the Pioneers of Colorado
It is impossible for the rising generations to conceive but a remote idea of the privations and dangers from hostile Indians that the pioneers endured in the early settlement of the West.
Colorado History Volume I
Updated Colorado Resources: